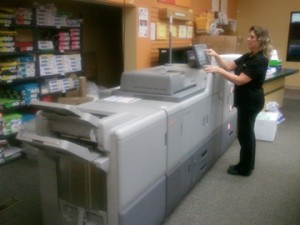 Karen Chartrand using Seaboard's new RICOH to make multiple prints.
CHECK THIS OUT!
Have you noticed that big gray thing in the room? No, it's not an elephant but Seaboard Graphics' newest digital printer. Just last week we finally completed the installation of our new RICOH Pro C751EX located in the store front. When you come in and take a look you'll first notice that the RICOH is much longer then our former digital printer, and later I'll tell you why. As training takes place and the staff gets a handle on this new printer we'll start taking our store front capabilities to new heights. This printer certainly will amaze you and we can't wait to show you what it can do, but first let me give you the highlights:
SHE IS A BEAUTY:
The RICOH Pro C751EX can produce a superior 4800 dpi image quality with enhanced media handling. What does that mean for you, it means we can color copy or print your fine detail image while reproducing it beautifully and quickly. We can print seventy-five pages per minute, and don't worry about us running out of paper while we print your job, we can fill on idle tray while your job continues to run. We will not miss a beat.
QUALITY QUEEN
If 4800 dpi doesn't win you over how about smooth graphics, tight registration and sharp text. Our RICOH Pro C751EX has revolutionary Vertical Cavity Surface Emitting Laser (VCSEL) technology; a 40 beam laser that provides outstanding resolution and digital halftones. It also provides mechanical paper registration to automatically adjust paper and sensors to monitor CMYK values and recalibrate whenever it is needed. With PxP toners and oil-infusing technologies we can print on a variety of paper, and with smaller uniform toner particles (with a low melting point) we can improve adhesion on thick, textured or coated stocks. Simply put, our new digital printer provides accurate and dependable output job after job.
ADVANCED CAPABILITIES
The RICOH Pro C751EX's size is extra long, providing Seaboard Grapics with finishing capabilities within our storefront; this includes booklet and staple (up to 20 sheets), square folding and trimming (up to 30 sheets) and 6-Pattern Multi-folding to execute several different paper folds and finished documents. And just as we're talking about multiple papers and folding let's also mention that this RICOH as Air-Assist feed technology which prevents paper warping or curling as she's moving along.
We could go on a tell you the great things our RICOH Pro C751EX brings to our staff like gorgeous scanning, user-friendly job programming even from individual desktops, and provides Seaboard Graphics with a green office solution. But, I think when you come in you'll see the difference, work flow at it finest; which is what you should expect from us and that's why we invested in the RICOH Pro C751EX for you. Enjoy.