Signage is a great way to put your best foot forward and let your clients know who you are and where you are. At Seaboard Graphics, helping you look your professional best is our top priority, and just one way we can do that is by providing you with the signage you need to make your Syracuse, NY business or organization known. Whether you need signage for your storefront, vehicle, tradeshow or window, we'll bring you sharp images and professional results. We offer many options to help your business or organization get recognized.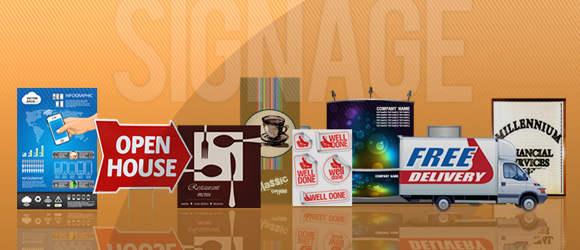 When you count on Seaboard Graphics for the signage you need for your Syracuse, NY business or organization, you can trust that you'll be working with professionals who will help you every step of the way. If you need help designing your signage, our experienced staff of graphic designers is ready to help. Even if you have already designed your signage and have a print-ready file for us, we'll work with you to make sure you're getting the sharpest, cleanest image possible so that your business or organization looks its very best.
Signage from Seaboard Graphics helps your Syracuse, NY business stand out.
Whether you want to create a moving billboard for your business by designing an innovative vehicle wrap, need lettering for windows or doors that makes your Syracuse, NY business or organization more visible, or need signage that helps you get more foot traffic to your tradeshow booth, Seaboard Graphics is the place to turn to for help. We offer custom printed signage in any size or shape imaginable, and we want to help you with your needs. We're pleased to offer a variety of signage products and services for a wide range of needs:
Have an idea for signage that's all your own? Trust Seaboard Graphics to make any custom signage for your Syracuse, NY business or organization that you'd like. We can help you with your unique signage solution, and we make it our business to provide the best selection of custom signage products in the area. When you trust Seaboard Graphics with your needs, you'll quickly discover that we have the most advanced printing equipment and our staff, with more than 65 years of combined experience, are uniquely qualified to meet your needs. When you choose us, you'll get top quality signage, all at a competitive price.
When you need signage for your Syracuse, NY business or organization, the professionals at Seaboard Graphics are ready to help. To learn more about our custom-printed signage solutions, call us at 800-721-1663 or fill out this convenient online contact form, and we'll be happy to help with your signage needs and more.