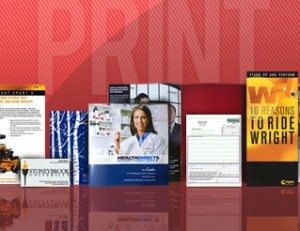 Sometimes, you need quality, printed materials in a hurry. You know that calling the print shop means it could take days before you receive your materials, and you just don't have time for that. If you need a smaller quantity of copies and time is of the essence, what can you do? Luckily, Seaboard Graphics can help.
At Seaboard Graphics, we're equipped to handle any kind of printing project– large or small, and no matter how soon you need it. We provide a number of different types of printing services, including offset printing for those larger-volume printing jobs, as well as color or black and white copy with our Xerox iGen system. How do you know if iGen digital printing is right for you?
Perhaps you're preparing for a presentation, meeting or event, and just don't have time to make the copies. That's where iGen digital printing from Seaboard Graphics comes in. We can make your copies, collate and bind them, and have them ready for you in no time flat. Whether you need color or black and white, we'll provide you with the professional results you expect for your business or organization.
The iGen digital press is perfect for any number of print pieces, including:
Booklets and manuals
Collateral
Direct mail
Photo publishing
Promotional materials
Through advanced technology, the iGen digital press provides outstanding images – improved detail, image sharpness, and enhanced color delivery, all provide a better final printed piece for you. Our iGen system provides you with attractive, full color documents, photos and presentations. Or, if you need black and white copies, our system will provide clear, crisp, easy-to-read documents. Simply bring us your originals, or we can output your documents directly from digital files. Not to mention, uploading your documents on our website is easy, too!
So don't rely on the office copier the next time you have a board meeting or presentation to prepare for – put your best foot forward with Seaboard Graphics and the advanced technology of iGen digital printing. To find out more about iGen digital printing, as well as the many other services we offer, contact Seaboard Graphics at 315-652-4200 or contact us online.