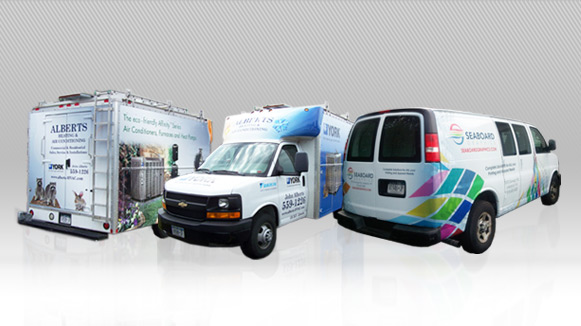 How can you create a mobile advertisement for your Central New York business or organization? It's a wrap – literally – when you choose to have Seaboard Graphics create your custom vehicle wrap. With vehicle wraps from Seaboard Graphics, you'll be able to use your fleet not only for transportation, but as a valuable marketing tool as well.
You'll be able to travel all over Central New York in your custom-wrapped vehicle, making it a rent-free mobile advertisement for your business or organization. Potential customers will see you, whether you're on the road or parked strategically in high visibility locations.
Seaboard Graphics offers Central New York wraps for a variety of vehicle types.
Marketing professionals and advertising agencies agree – vehicle wraps are a great way to market your Central New York business or organization. And the best part of using a vehicle wrap? You don't have to share advertising space with anyone else. We can create a custom vehicle wrap for any number of vehicle types, including:
Cars
Vans
SUVs
Trucks
Trailers
Even Motorcycles!
At Seaboard Graphics, we'll be happy to work with your own design – or let one of our talented graphic designers help you create the perfect vehicle wrap for your Central New York business or organization. To create a custom wrap for your vehicle – whether it's just one or your entire fleet – call Seaboard Graphics at 800.721.1663 or contact us online.