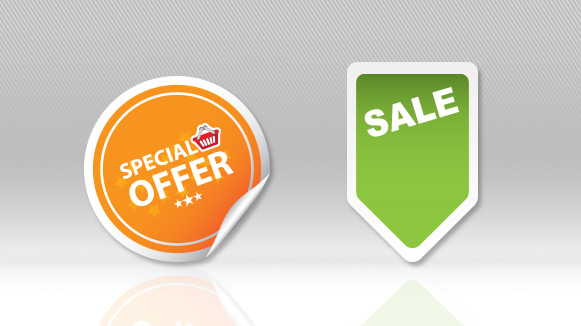 When you need custom stickers for your Syracuse, NY business or organization, you can count on Seaboard Graphics to help. Stickers are a great way to get the word out, whether you'd like to make your contact information stand out, announce an important business anniversary, create a sensational looking door to your business, or even to give your business a boost via bumper sticker. Stickers are a portable advertisement for your business or organization. But, they're so flexible that you can use them as a means of sharing important moments with your family and friends as well. Family reunions, holidays, school events and more are all opportunities to make stickers from Seaboard work for you.
If you'd like to share a custom printed sticker with customers, colleagues, friends or family, you can count on Seaboard Graphics. We're the premier custom printer in Syracuse, NY, and we can help you get the stickers you need. You'll be in complete control of the kind of sticker you choose to create – the only limit is your own imagination. Seaboard can help you create the kind of stickers that will get noticed. From clear stickers that you can place on the door to your business or organization to bumper stickers that help keep your business, organization or cause top of mind, we'll work with you on the sticker you need for the best results.
Seaboard Graphics creates custom stickers for businesses and organizations throughout Syracuse, NY.
No matter if you need stickers for your own use, like for crafts, greetings or special family occasions, or if you need stickers that can help you promote your business, Seaboard Graphics will be able to help meet your needs. Our talented team of graphic artists is on hand to help you custom-create your sticker, or choose to email us your already-created sticker. No matter what you decide, we'll custom print your sticker in any size or shape imaginable. We want to help you with the sticker needs of your Syracuse, NY business or organization, which is why we offer many sticker solutions, including:
Custom Stickers in Syracuse, NY
Bumper Stickers in Syracuse, NY
Vinyl Stickers in Syracuse, NY
Clear Stickers in Syracuse, NY
Do you have an idea for a sticker that we haven't mentioned? No problem – at Seaboard Graphics, we work with our customers to create any sticker product you'd like. We can create an entirely unique sticker solution for your personal or business use. We work hard to ensure that we provide the widest selection of custom sticker products for your Syracuse, NY home or office, and we want you to trust Seaboard Graphics to meet your needs. We have the best equipment, and our professional staff have more than 65 years of experience altogether in the printing industry. That means you'll get high quality products and services, all with competitive pricing.
If you need stickers for your home or office use, choose Seaboard Graphics of Syracuse, NY. To learn more about our custom-printed sticker solutions call us at 800-721-1663 or fill out this convenient online contact form, and we will be happy to help you with your sticker needs.