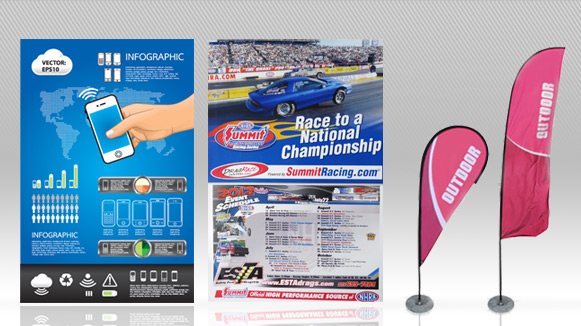 If you'd like to market your Syracuse, NY business or organization in a way that's sure to get attention, posters are one of the best tools out there. They get noticed, and they can influence many people at once, and when you choose Seaboard Graphics to meet your needs, you'll find that posters are an affordable choice as well. At Seaboard, we can help you create posters that are sure to stand out with our state of the art printing presses and thick premium paper stocks, or even durable, long-lasting canvas. Whether you are printing 25 or 25,000 posters, you'll find the best prices and the best quality with us.
How can you use posters as a business tool? Well, an obvious use is for important announcements and calendar items, like open houses, sales, customer appreciation events and more. But did you know you can use posters to offer informational items to your clients as well? Create an eye-catching infographic poster or a branding piece that helps keep your business or organization top-of mind. No matter how you choose to use posters in your Syracuse, NY place of business, Seaboard Graphics can help you create something visually stunning that makes people want to learn more about you.
If you need posters for your Syracuse, NY business or organization, rely on Seaboard Graphics to help.
Whether you need your poster to convey valuable information to your clients, for branding purposes, or to announce an important event, Seaboard Graphics will be able to help meet your needs. Our team of talented graphic designers is available to help you create custom poster solutions. Or, if you prefer, you can email us your ready-to-print poster. Regardless of whether you want us to create it or you already have, we'll custom print your poster in any size you need. We want to help you with the poster needs of your Syracuse, NY business or organization, and we're proud to offer a wide range of poster solutions, including:
Posters in Syracuse, NY
Business Posters in Syracuse, NY
Event Posters in Syracuse, NY
Canvas Posters in Syracuse, NY
Photo Posters in Syracuse, NY
If you have an idea for a poster we haven't mentioned, that's never a problem, because at Seaboard Graphics, we work with you to create any custom poster product you'd like. We can help you with an entirely unique poster solution for your business or organization, and we work hard to ensure that we offer our clients the greatest selection of custom poster products for their Syracuse, NY company. We hope you'll trust Seaboard Graphics with your needs – we have the best printing equipment, and our staff has more than 65 years combined of professional printing experience. You'll get top quality products and services, and competitive pricing, when you choose Seaboard for your poster printing needs.
If you need posters for your Syracuse, NY business or organization, then count on the professionals at Seaboard Graphics. To learn more about our custom-printed poster solutions, call us at 800-721-1663 or fill out this convenient online contact form, and we will be happy to assist you with your poster needs and more.