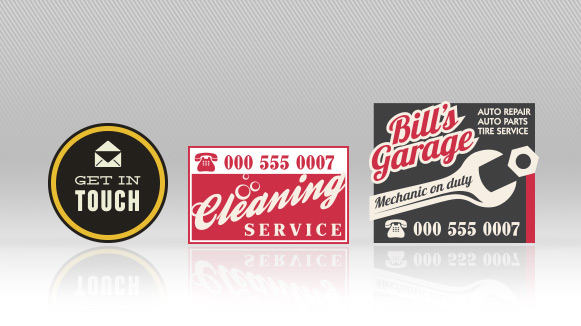 Everyone loves magnets – from the magnets you put on the refrigerator in your Syracuse, NY home or office, to car magnets and magnetic signs you can use to promote your business, magnets are a simple way to get the word out. Magnets provide a no-hassle, no mess solution to creating a portable advertisement for your business. And, because they're so flexible, you can use magnets to not only easily promote your business, but you can share them as gifts with friends and family, or use them to remind people of important dates. Really, whatever magnet you choose to create is entirely up to you, and Seaboard Graphics of Syracuse, NY can help.
If you'd like to create a custom printed magnet, you should know that at Seaboard Graphics, we're the premier custom-printing supplier for the Syracuse, NY area. The kind of magnet you choose to create is only limited by your own imagination. At Seaboard, we're pleased to help people create magnets that will get them noticed. Want to share a favorite photo with your family in a format that's easy for them to display? A magnet that they can simply be displayed on a refrigerator or file cabinet is sure to be appreciated. What about helping you stay top-of-mind with your customers? Magnets that display your logo and contact information are a great choice.
Count on Seaboard Graphics to be your Syracuse, NY magnet headquarters.
Whether you're looking for magnets for your personal use, like as a save-the-date shower, wedding or party reminder, or if you'd like to use magnets to promote your business, Seaboard Graphics can help you get the magnet you need. You can work with our talented graphic design team to customize your magnet, or you can send us your design files. Either way, we'll custom-print your magnets at our Syracuse, NY facility, and have them to you promptly. We offer magnets in any shape and size imaginable, and we want to help you with your custom-printed magnet needs. We're pleased to offer a variety of magnet products and services:
Custom Magnet Services in Syracuse, NY
Save the Date Magnets in Syracuse, NY
Car Magnets in Syracuse, NY
Custom Printed Magnetic Signs in Syracuse, NY
If you have a magnet idea that you don't see listed above, that's okay too – we work with our clients to create a wide number of magnet products, and we can help you create an entirely custom magnet solution for your personal or business use. We want to make sure that when you need a magnet for your Syracuse, NY home or office use, that you know you can trust Seaboard Graphics to help you find the solution you need. Our state-of-the-art equipment and an expert staff with more than 65 years of collective experience in the printing industry allows us to offer the highest quality products and best service anywhere, while still offering the industry's most competitive pricing.
When you need magnets for your home or office use, Seaboard Graphics of Syracuse, NY can help. To find out how we can help you get the custom-printed magnet solution you need, call us at 800-721-1663 or fill out this convenient online contact form, and we will be pleased to assist you with your needs.